So, what to say about the Rays/ChiSox today?
Well, it was all Chicago all the time until Sam Fuld decided (again) to show his teammates, his management, and pretty much everyone else in the world of MLB what he's worth. A double which had him on base an in position to score, putting the Rays on the board (6-1). Really, the only hiccup in Gavin Floyd's day was his throwing error (though, I would have to argue that he wasn't alone in that one) that allowed Fuld to score.
And, then comes the drama. The score was (very briefly) 6-2 until the call on Johnson was reversed and his RBI (bringing Damon across home plate) didn't count.
And, then Maddon got mad. Pun intended. He was pissed. He came out of the dugout red-faced and hand-waving in the familiar way. My lip-reading skills are amateur at best, but I saw an awful lot of bullsh*t getting thrown around in amongst the general flailing. I think he knew from the time he marched onto the field that he was going to yell until he got himself tossed from the game. It was a close call, an arguably an important one, so the dramatics weren't unexpected.
But, I can't help but wonder if at least 50% of Maddon's ranting was letting out 7 games worth of frustration in a public venue. It's been a rough start for them, really, and who could blame him? Unfortunately, it didn't help his boys today.
However, aside from that aforementioned throwing error, this guy was having a pretty great day (and getting a reasonable amount of exercise, running back and forth to first):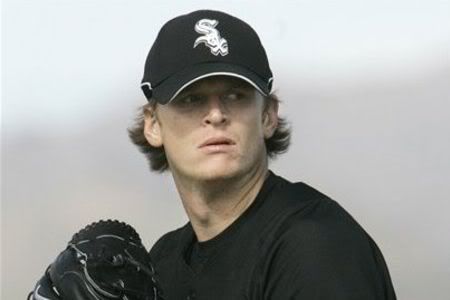 Way to go, Gavin Floyd.