1. I still haven't gotten over the events of yesterday. So, I am going to link to a video that contains both of the much hyped-about catches.
http://chicago.whitesox.mlb.com/video/play.jsp?content_id=14199891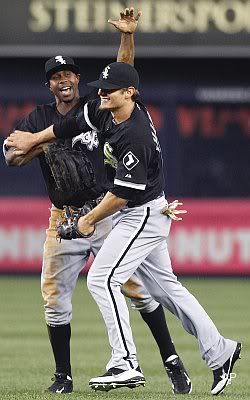 His expressions (he knew exactly how perfectly-timed those plays were) and his excited fist-pump the second that he made the second catch were pretty awesome to watch. Way to make the most of your time in the game.
And, I am also going to link to a rather amusing article about someone hacking Lillibridge's wikipedia page – which is how you know that you've "made it". [click here]
Seriously, we have had so much late-inning drama in all of the games where we've actually been in contention to win, it was nice for the drama to go our way and not have to endure – at worst – a disappointing loss and – at best – another inning or more of drama.
And, also, give me a game that ends on a spectacular piece of defense over a walk-off homer any day of the week.
2. In regards to today's game, I missed the first inning and a half and, as such, missed pretty much everything that happened in the game. I missed Ozzie getting tossed, I missed Buehrle's early struggles that led to the 3-run homer and I came back just in time to watch 5 innings that were, essentially, a pitcher's duel. (And, due to a ridiculous lack of sleep lately, I may or may not have fallen asleep about 2 batters before Jesse Crain came in. Sad for me, since I have really enjoyed watching him pitch lately and would have liked to see it.) And, sadly, there was nothing more to be done and, aside from a single RBI courtesy of Adam Dunn, there really wasn't any more action. From either side.
There were a few times where we left runners in scoring position (the time with the bases loaded was particularly painful), and yeah, the offense could be better those times. But, there was something remarkable about tonight's loss. We didn't win, which is disappointing, but we didn't really have an active role in giving the game away. To me, anyway, it just felt like a normal, run-of-the-mill, every day loss and not like another team crushed us and then wiped the floor with us afterwards.
And, honestly? Today's type of losses aren't nearly as painful to me. It happens sometimes. You win some, you lose some. And, hopefuly we'll do better tomorrow.
3. It's snowing in Minnesota and they're postponed in Chicago? And, I thought the recent weather in Chicago was going to be the last time I saw the players bundled up on the field. That's nuts.
I think *everyone* is going to be happy when April is over.