It's easy to be optimistic today. Especially when your scoreboard looks like this:


The bats were on fire tonight. Just like the expected AL Central standings are upside down, the batting order decided to stand on its head, too. The bottom 3 guys were smokin' out there. It was nice to see. Not that I can explain what lit the fire under the butts of Morel, Beckham and Rios, but I'll take it. They went 6-for-6 with two doubles and two RBIs and who would have thunk it? There was also some better-than-average defense, so that was a plus. (There was also some great defense by the Mariners… I'm still smarting a little from the home run that they stole from Pierzynski).
[Also, as a side note, I apologize to Mariners fans everywhere – and to the man himself – but I really can't help but giggle and think of board games every time I hear Milton Bradley's name.)
But, today's chosen positivity comes from Gavin Floyd. Who I kind of love like Catherine (of "The Wizard of Ozzie") loves Mark Buehrle, even though I want to shake him and tell him to just calm down and breathe a lot of the time when I watch him pitch.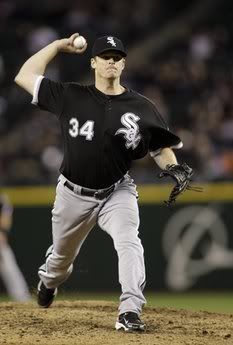 He was, again, pretty rock solid – with the notable exception of the 2nd inning – and was really in a zone tonight. It was a pleasure to watch him work his stuff for the first game I was able to catch in a long time.
99 Strikes. Awesome.
The game today was MLB.tv's free game of the day (which also meant I could listen to the Seattle feed – bonus!) and meant that I could catch the game at work. Which ain't too shabby.
So, all in all: Watching a baseball game at work, watching the Sox grab a win, watching Gavin pitch a great game that was actually supported by the rest of the team, and some surprise action from 7, 8 and 9.
Edited to say: In fact, it was such a generally solid and cohesive outing all around that I am going to give everyone a gold star tonight. Go, team!
It was a good Saturday night.